Evgeny Kirillovich Golubev / Евгений Кириллович Голубев
Harp Quintet in C Minor (1953)


Harpist Vera Dulova
This essay on the Harp Quintet comes from the introduction to Golubev's music that I wrote for
American Record Guide's May/June 2019 issue
, available in print and PDF formats.
The magical Harp Quintet (1953) still gets a few airings; I know the
Jupiter Chamber Ensemble played it
in Berkeley, California, in 2017 (their violinist Victor Romasevich has also performed the Violin Sonata). The dry sonics on the Russian Compact Disc recording don't harm the performance, though they are not ideal. Vera Dulova was a harpist of the highest caliber, and she was even named an Honored Polar Explorer for her part in a 1955 concert at an ice floe station at the North Pole. The Komitas Quartet's shimmering sound lends the piece a gauzy Hollywood sound in this 1958 taping, and it suits its romanticism perfectly. The first movement begins and ends with the harp playing chromatically inflected runs and arpeggios over sustained string chords. The strings bring in the main theme, but the harp soon returns with its own ideas. While the melodies are distinctly Russian, the influence of impressionism is palpable. II is a cheerful scherzo with a bucolic middle section; the harp often plays off of the quartet's pizzicato. Golubev wrote with a concertante effect in mind, so there is not much independence to the string parts. An Andante follows, and the finale takes us even closer toward France. All the themes are among Golubev's best, and it's easy to see why this charmer still has a concert life.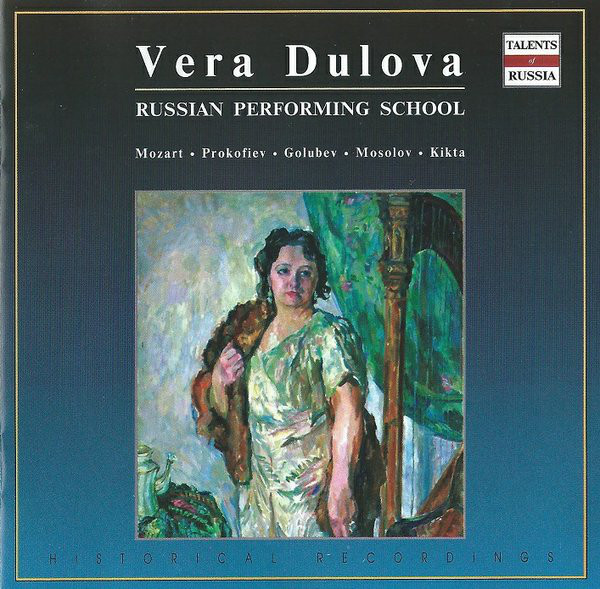 Amazon
Discogs
Ebay
Russian CD Shop
Amazon (streaming)
This may appear with Mozart's concerto as the only piece listed in the title. The UPC for this disc is 4600383162058. If you search the internet for it, you can find several other stores.